Download the Free Rx2GO App
Say goodbye to waiting for your refill. As part of maintaining a healthy life, Stafford Pharmacy is proud to offer an innovative and user-friendly App. Download to your Apple or Android device for free today.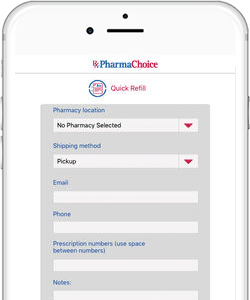 Easily refill prescriptions from just about anywhere.
Refill your prescriptions quickly and easily. Once you access the App, all you have to do is enter your phone number on file with the Stafford Pharmacy and prescription number(s) to submit a request for a prescription refill. Simple as that!
Easy access to your profile information.
Login to the Rx2GO App using your card number and the unique PIN issued to you. Once logged in, you'll be able to view your information and fill prescriptions with ease.