Our Compounding Lab A Brief Virtual Tour
A renovation project in 2014/15 was completed to more than double the size of the compounding lab.  Until now, we were doing some compounding in a small lab that was shared by our four glove Microsphere®, a positive flow, isolation chamber also known as a "glove box", for the preparation of sterile preparations.  Here is a quick tour of our lab to see just what kind of facility, equipment and resources are necessary to make custom compounded preparations possible in the community.
Although the construction crews have left and the electricians and plumbers have collected their tools, we are still outfitting the lab with equipment, instruments and technology that will allow the pharmacists and technicians the ability to prepare all manner of innovative dosage forms to better solve the many therapeutic problems that we are presented each day.   The expansion resulted in a doubling of workspace, a new cleaning station that includes a lab quality glass washer, a new home for our powders hood (Safe AiRx), new expanded chemical storage and larger chemical inventory, technicians workstation, mixing station (for Unguators and Ointment Mill), new three glove Microsphere Isolation Hood and ample work area for pharmacists and technicians.
Our thanks to those companies and individuals who provided services and expertise for the Wesbridge Construction the general contractor, Ian Mukaida of Quarter Circle Retail Management , Wil-Sand Custom Woodwork, Rieve Plumbing, Coleman Electric, South-Alta Communications, Miele Canada, PCCA Canada and Isotech Design.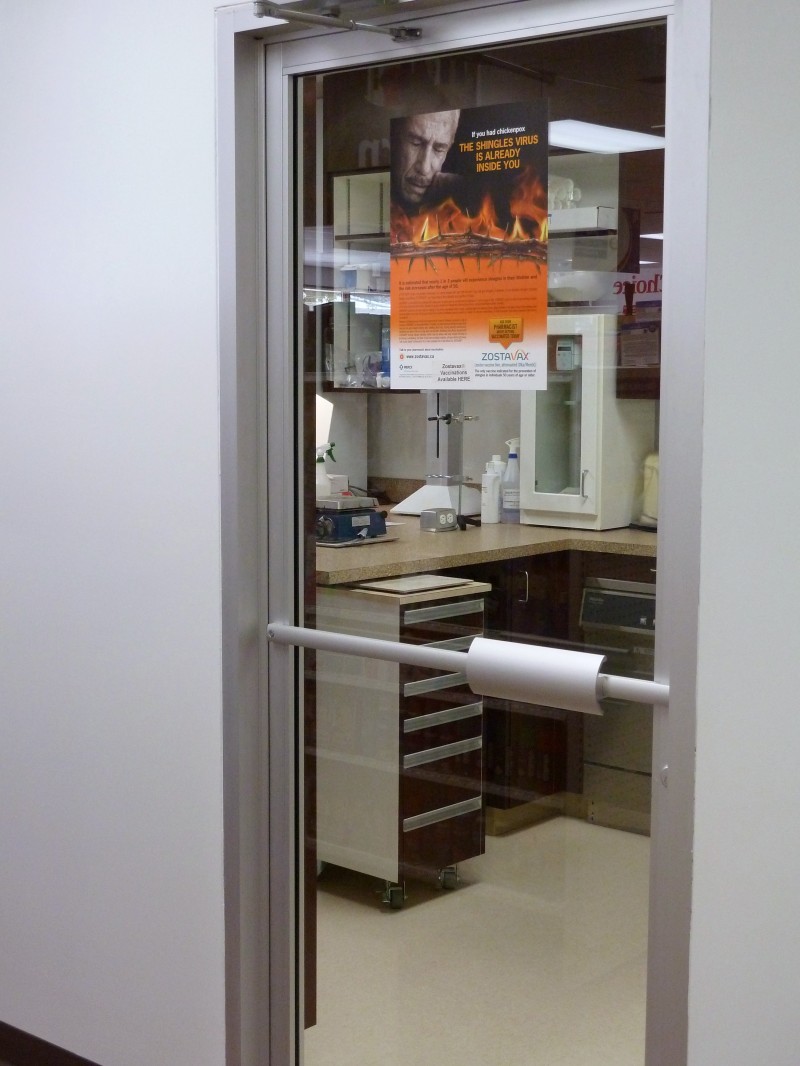 On the immediate left of the entry is the new lab area with ample counter space for prep work and a powder hood where all powder manipulations of active principles are done.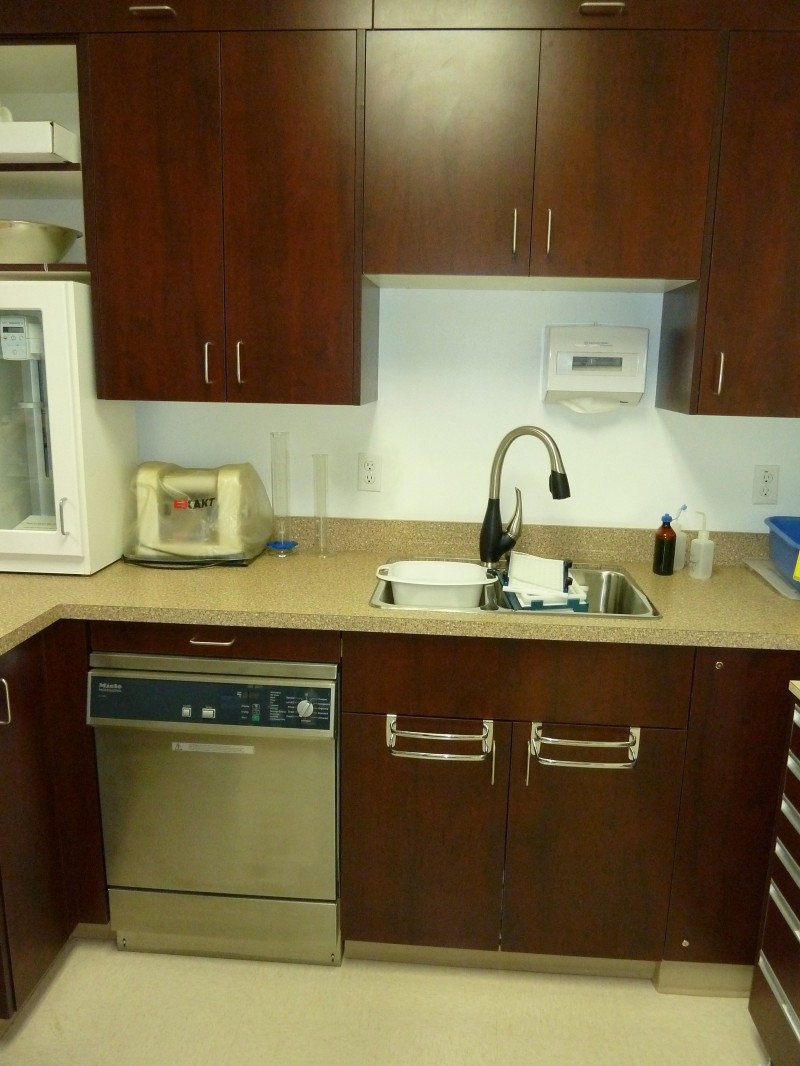 A new entry to the lab that is visible to anyone in the pharmacy.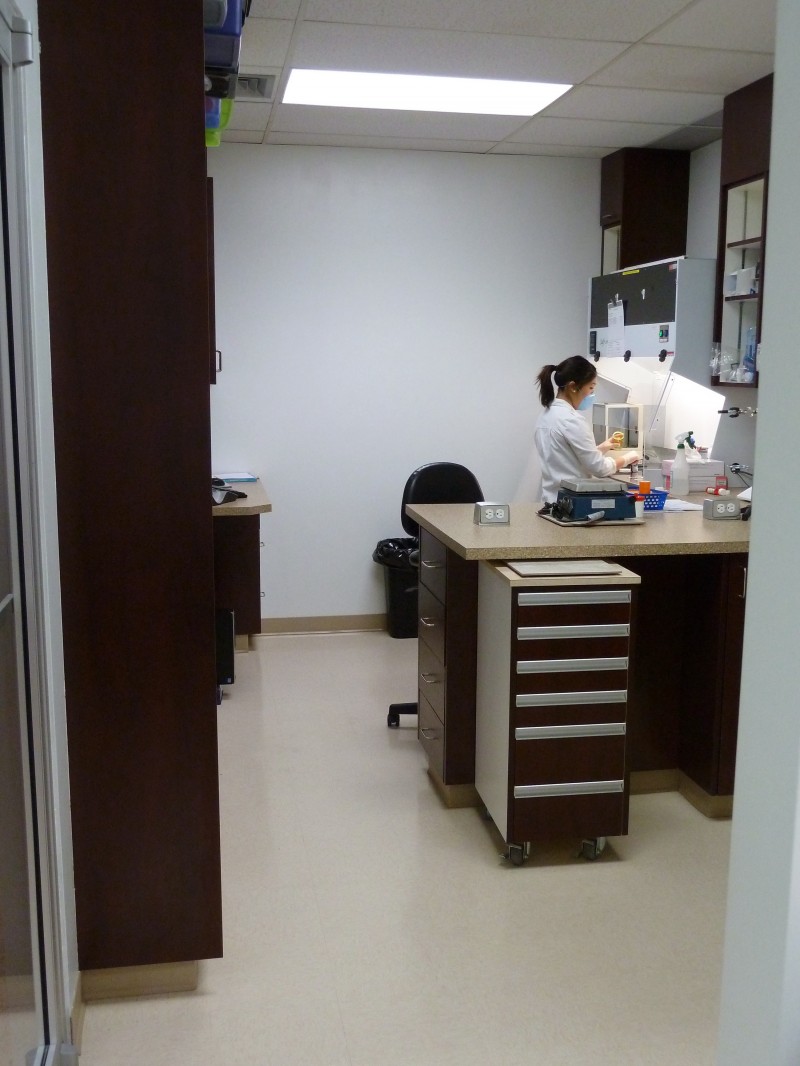 All new clean up station including a Miele Lab glass washer that will leave glassware analytically clean. Not all instruments and equipment can survive the wash and rinse cycles that are used on some of the wash programs.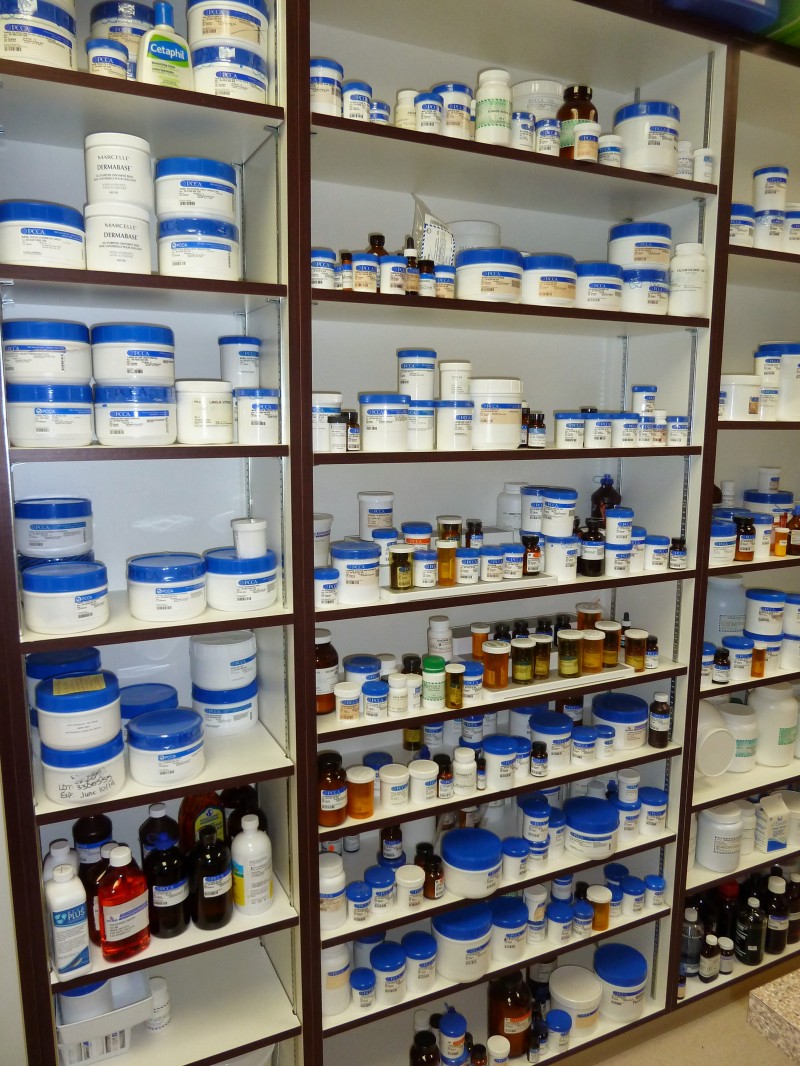 Chemical Storage
We now have ample room for chemical storage allowing us to not only inventory the stock so it can be quickly found but also allow for the addition of new items as we continue to expand our compounding abilities.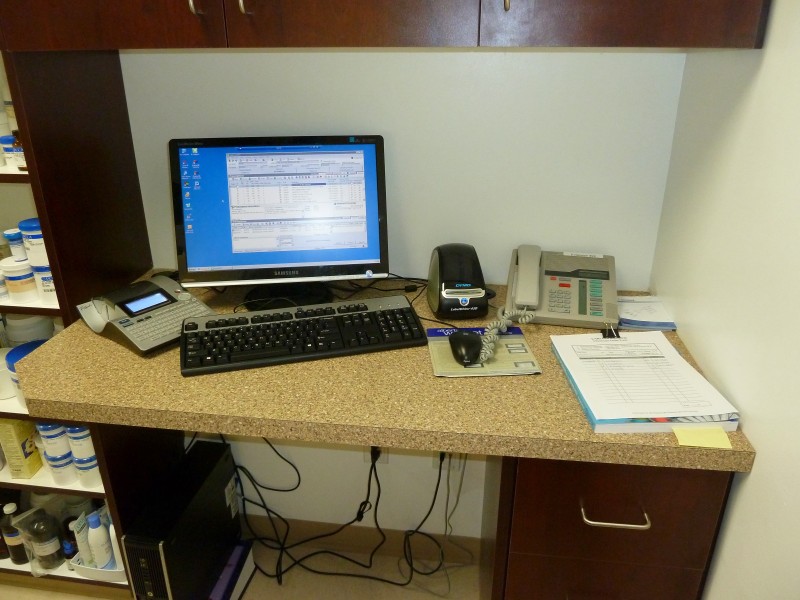 Workstation
We've made sure the pharmacists and technicians have access to our information network both internet and intranet. This workstation gives access to all the information tools in use in the dispensary plus the reference sources for compounding such as the PCCA members only site and access to our own customized compounding database program.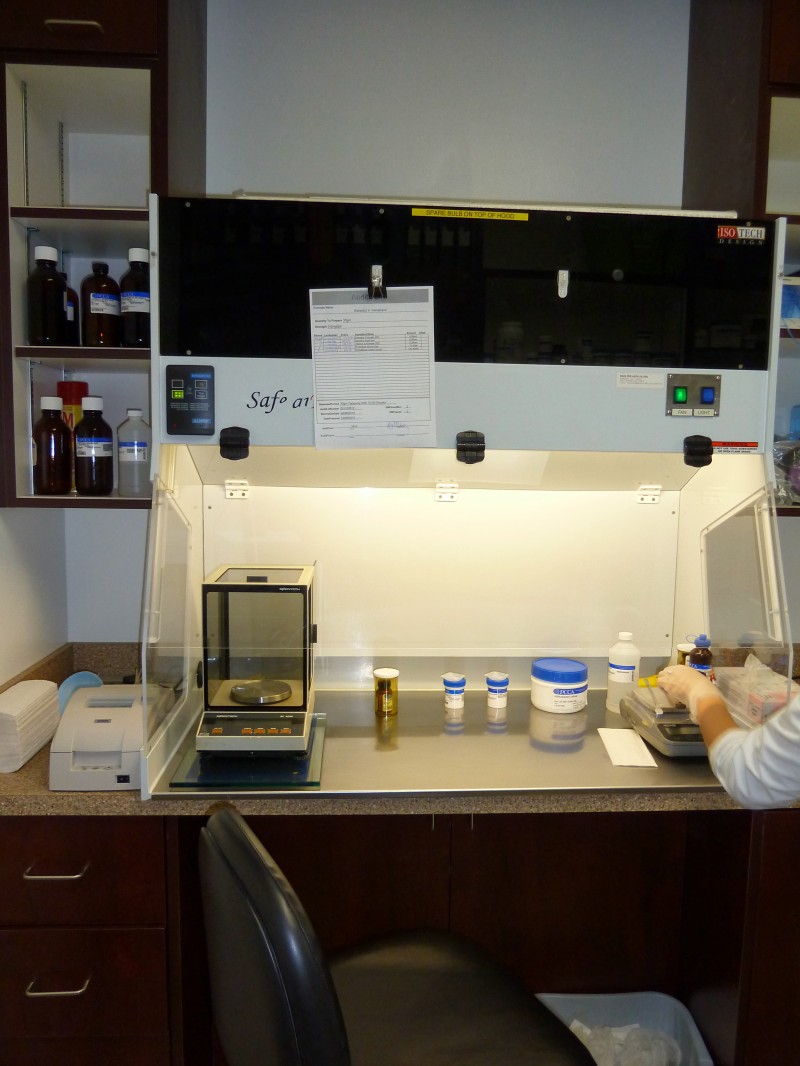 AiRx Hood
The majority of the chemical powder manipulations are done within a Safe AiRx hood made my Isotech Design, a Canadian company. Many of the active principles being manipulated are potent drugs or hormones that have their own pharmacologic action at mcg or mg dosages. Therefore when a technician is making mg or gm transfers of the powders, their safety is a priority.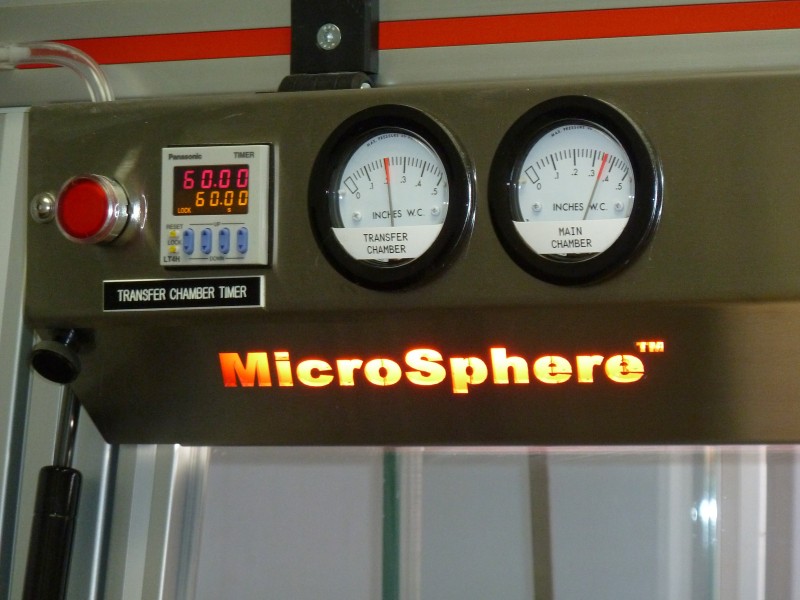 Microsphere
Microsphere gauges panel displaying the operational performance of the hood while in operation.Unlike traditional horizontal laminar flow hoods, the MicroSphere provides an enclosed work area with a pre-chamber for the safe transfer of supplies & preparation ingredients. The work area is never open to the surrounding environment.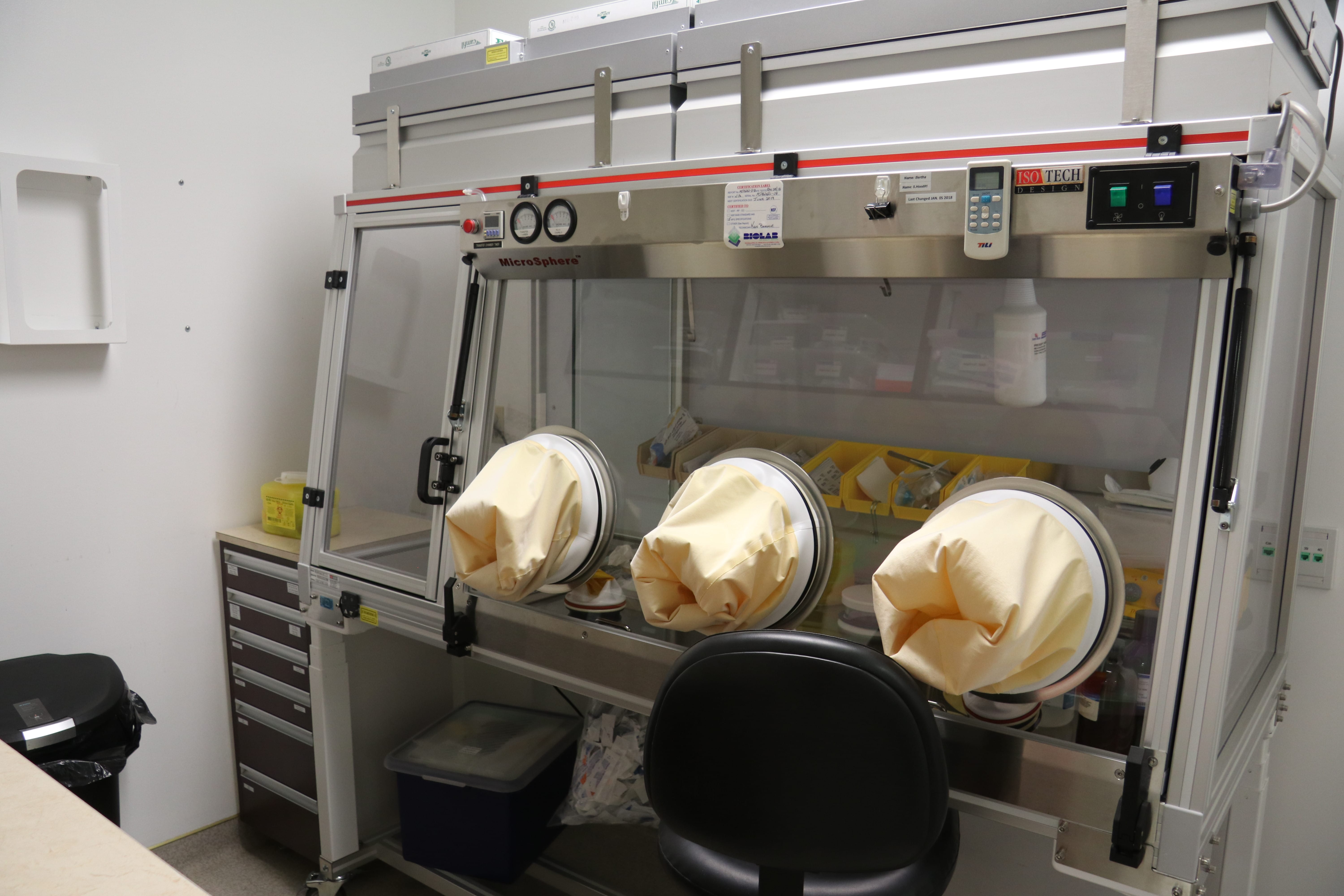 Microsphere - Front View
Full front view of the Microsphere three glove unit before use. The Microsphere hood must be in operation for a minimum of 30 minutes before use. This allows the interior environment to reach an equilibrium that ensures the optimal laminar air flow which is needed to protect the item being prepared in the aseptic (~sterile) confines of the hood.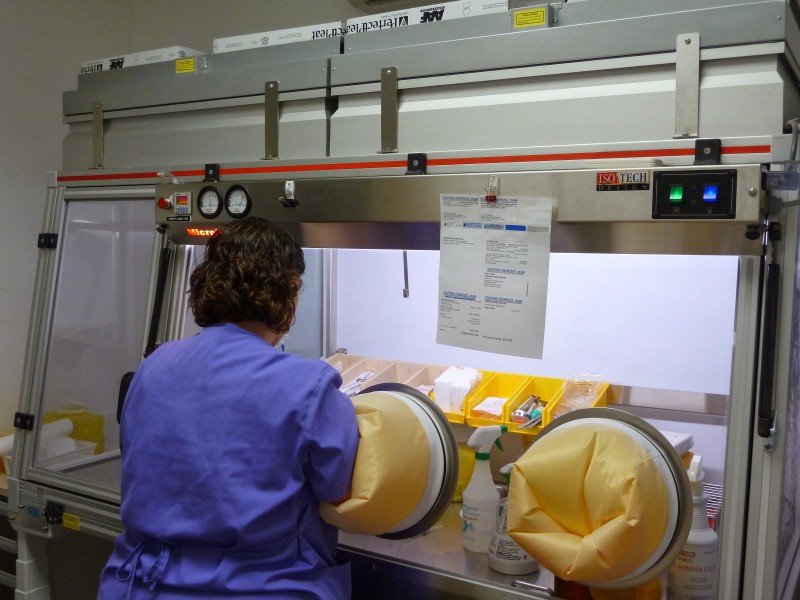 Laminar Air Flow
A technician is doing all manipulations through gloves attached to the front face of the Microsphere. The positive pressure produced by the laminar air flow causes the sleeves to bellow out. This "outward" flow of laminar air ("columns of air") is what protects the preparation and all the ingredients being used from by bacterial, viral or chemical contamination.
As well as compounding non-sterile products such as creams and oral liquids, we are equipped with a sterile hood in order to prepare many sterile products such as those listed below:
Eye and Ear Preparations
Eye and ear drops alike must be made in a sterile environment.  We prepare these types of formulations for both humans and animals!
HPTP
HPTP or Home Parenteral Therapy Program is a program which allows patients to receive intravenous (IV) medications in the comfort of their home after being discharged from the hospital or instead of being admitted to the hospital to receive treatment.  At Stafford Pharmacy we prepare IV antibiotics to treat those infections that prove to be a little more serious than those treated well with oral or topical antibiotic dosage forms.  For more information about the HPTP program and for the healthcare professional we direct those interested to the following page:  Stafford Pharmacy HPTP Program
Medications for Injection
Many medications must be administered by injection.  We are able to create an injectable formulation for medications that may not be commercially available in this dosage form.  As well, due to wide ranging and longer term drug shortages of  many medications including those administered by injection.  Recently we have been called on to prepare diazepam iv solution; midazolam injection; phenobarbital injection solution to name a few that became unavailable due to single source supply within Canada.
Pre-filled Syringes
For some patients it can be difficult to draw medications up into syringes for administration by injection.  At Stafford Pharmacy we offer a pre-filling service.  We will draw up the required amount of medication into syringes for each dose.  The patient no longer has to worry about how to draw the correct amount of medication into the syringe.  Examples of medications that we often pre-fill for clients are insulin (for diabetes) and methotrexate (for Crohn's and other disease).  We also offer safe disposal of needles in safety containers.  Don't put used needles in the garbage, return to our pharmacy for proper disposal.   Please ask pharmacy staff about this service and if it could benefit you!