Staying Safe During the COVID-19 Pandemic
An Update From Our Pharmacy
At Stafford Pharmacy & Home Healthcare, your health and wellness are always our top priority. That is why we have made an adjustment to our already rigorous health, safety and sanitation procedures in place. Throughout our pharmacy, our team is working hard to disinfect high-touch surfaces regularly, including but not limited to accessibility buttons, handles, counters, phones, floors, and digital payment terminals. If a member of our staff feels unwell or experiences a potential risk of exposure to the COVID-19 coronavirus, they are instructed to stay home, self-isolate and speak with a health care professional, until it is deemed safe for them to return.

We are following all current guidance from the municipal, provincial and federal government regarding safety measures in place. We offer prescription and home healthcare product delivery at no charge, curbside pickup for purchases and encourage people to phone at least 24 hours ahead to request their prescription refills, which will reduce the time they have to spend in the pharmacy. We have also added an online option for shopping front store and home healthcare products. Please visit https://stafford.pharmachoice.shop to browse our online pharmacy. You can choose to pick up in store or have orders delivered if living in Lethbridge.

Your loyalty, patience and understanding are appreciated throughout these uncertain times. For any questions or inquiries, please contact our pharmacy.
We continue to offer Pfizer Covid-19 vaccinations but only the newer Pfizer XBB1.5 vaccine which targets the last Covid-19 virus mutation. You can arrange an appointment for a vaccination by clicking on the 'book now' button or call us during regular business hours at (403) 320-6500 and select option 1 to speak with the pharmacist and/or pharmacy technician.

Reducing the Spread of COVID-19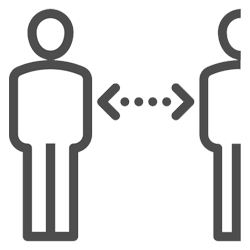 Physical Distance and Face Coverings
Please maintain a physical distance of six feet from others when inside our pharmacy. We also ask that you wear a mask or face covering that sits above your nose and underneath your chin.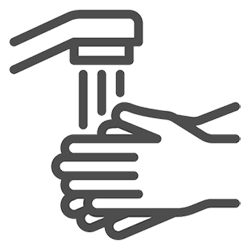 Proper Hand Hygiene
Frequent hand washing with warm water and soap can help to keep your hands clean and reduce bacteria. An alcohol-based hand sanitizer can provide an adequate substitute.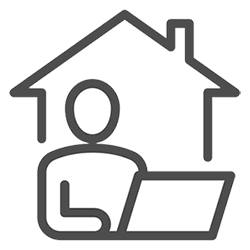 Staying Home
Staying home can help to reduce your risk of exposure to COVID-19. It can also help to reduce the risk of you spreading the virus to others and flatten the curve.
COVID-19 is a virus that affects the respiratory system. It can spread through droplets that are created when a person speaks, coughs or sneezes. These droplets may be inhaled by another person nearby, making their way into the mouth, airways and lungs, or through a surface or object.
For instance, if a person were to shake hands or open a door and then touch their mouth, eyes or nose before washing their hands. Symptoms of COVID-19 can vary from person to person and may take up to 14 days to appear following exposure. The only proven way to diagnose COVID-19 is through a test.
What Are the Symptoms of COVID-19?
The symptoms of COVID-19 include but are not limited to:
New or worsening cough
Shortness of breath or difficulty breathing
Temperature equal to or above 38°C
Fever
Fatigue or weakness
Muscle or body aches
New loss of smell of taste
Headache
Gastrointestinal symptoms, including abdominal pain, diarrhea and/or vomiting
Feeling very unwell
Symptoms may take up to 14 days to appear after exposure to COVID-19. If you begin to experience symptoms of COVID-19, have been in contact with someone who has tested positive or have a risk of exposure, stay home to self-isolate, monitor your health closely and contact your health care provider for further instruction.
Preventing the Spread of COVID-19
There are a number of actions that Canadians can take to stay healthy and prevent the spread of COVID-19 in Canada. In an effort to prevent the spread within cities and communities in Alberta and throughout the country, it's advised to keep in-person interactions and exposure to others very brief or avoid them altogether.
For more information about COVID-19 or to learn more about how you can prevent the spread, speak with our team of pharmacists at Stafford Pharmacy today.
Here are some things that you can do to help prevent the spread of COVID-19:
Avoid closed and crowded spaces, along with close contact settings
Wear a mask or face covering when in close contact with others and public spaces
Maintain a minimum two metre distance with others outside of your household
Practice proper hand hygiene and respiratory etiquette
Clean and disinfect high-touch surfaces in your home and workspace
Stay home and self-isolate if you feel unwell or experience symptoms
Limit the number of people that you have close contact with
Abide by all government and public health guidelines
Go outside to exercise
Stafford Pharmacy's Response to the COVID-19 Pandemic
Stafford Pharmacy has implemented standard health and safety measures to help keep our staff, customers and communities safe amid the COVID-19 pandemic.